About 160 years ago, the scion of the Modak family, engaged traditionally in sweetmaking, Felu Charan De, started his own enterprise on the southern part of Rishra whose father was Kartick Chandra De.The traditional business has crossed nearly five generations and their present location is situated at the junction of Srimani lane, G.T.Road and N.C. Pakrashi lane.


Like Swiss cakes, Bengal's contribuition to the manufacturing of sweetmeat /candy /savouries has assumed legendary dimensions not in one day but through many days and nights of perspirations. As a matter of fact, many families in the trade had hit the hoglines when such fooditems became a part and parcel of Bengal's cultural life, patronized by stalwarts...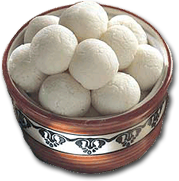 The habitat of Bengalees- Bengal- surrounded by Assam, Bihar and Orissa and Bangladesh, is often remembered for its pioneering role in the flowering of Indian renaissance in 18th century.
We know Kolkata has been a harbinger of sweetmeat industry where new innovations have been made during the last three centuries where Muslim,and British rulers and other Indian babus created an ambience that went into creations of new items and won the hearts of all and sundry.

"ellentesque habitant morbi tristique senectus et netus et malesuada fames ac turpis egestas. Vestibulum posuere tempus mattis. In blandit odio ut enim eleifend id ullamcorper odio sollicitudin."
Varun majumdar

"ellentesque habitant morbi tristique senectus et netus et malesuada fames ac turpis egestas. Vestibulum posuere tempus mattis."
Anobha sen